Patients Emotional Readiness for Cataract Surgery
Alpharetta, GA, August 2022
Study Highlights Role of Emotional Readiness for Cataract Surgery
By Amy Hellem, MLA; Sara LaBelle, PhD; Cynthia Matossian MD, FACS; and Paul Karpecki, OD, FAAO

From the patient's perspective, learning about cataracts and preparing for and undergoing surgery is an emotional journey as much as it is a physical one. With that in mind, it's vital that the cataract care team offer support that promotes comprehensive wellbeing.
As new research indicates, helping patients participate in their care early in the cataract journey can help ensure that they receive timely surgery under improved conditions. Specifically, research shows that when patients are afraid of surgery, they avoid having cataract surgery for as long as possible, enduring poor acuity that could lead to other potential dangers, including falls. However, this same research shows that most patients are willing to engage in a daily ocular surface hygiene routine in the weeks leading up to surgery. This activity gives patients agency as they emotionally adjust to their need for surgery. In addition, by minimizing apprehension, patients may be better prepared to make important decisions about premium surgical options, such as presbyopia and astigmatism correction.
This noninterventional, cross-sectional investigation of 278 U.S. adults age 65 and older sought to identify cataract surgery candidates' knowledge, beliefs, desires and emotions as well as their behavioral intent to adhere to their doctors' pre-surgical recommendations.1 In this mixed methods study, two key variables of interest—fear and uncertainty—were measured both quantitatively and qualitatively, providing specific insights into how patients feel so that researchers could extrapolate best practices for mitigating these undesirable emotions.
Specifically, the report, which was recently published in Clinical Ophthalmology found that fear is the predominant emotion in one out of every three study participants. Importantly, there is also a notable correlation (r = .44) between fear and intention to delay having surgery for as long as possible. This is potentially troublesome when an ECP tells a patient that they are developing cataracts and that patient silently worries and reacts by putting off future visits until their vision becomes unmanageable. The authors strongly recommend prescribing a pre-surgical prep-kit as a way to combat fear and uncertainty while giving the patient greater agency and autonomy, in effect preparing them both emotionally and physically at a time when they might otherwise avoid proper care and delay surgery.
There's a common misconception that patients are in a big hurry to have cataract surgery, but this research modifies such reasoning. Specifically, patients who have yet to present for their consult are more likely to be avoiding care. Only 20% of participants in the study said they wanted to have cataract surgery at all and only 8% said they wanted to have cataract surgery as soon as possible.
A second misconception addressed in the study is that cataract surgery candidates are unwilling to participate in a pre-operative prep routine. However, 87% of participants in the study say they would use a pre-surgical prep kit if their doctor gave them one and 83% said they would use a pre-surgical prep kit if they were asked to buy one.

The benefits of a healthy ocular surface prior to cataract surgery are well established, but this is the first study to inquire about the potential emotional benefits of pre-surgical prep. To that end, the authors are initiating future studies to investigate the clinical and emotional outcomes of prep, as well as the impact that initiating a prep routine may have on patient apprehension and intraocular lens selection. Participants will use a moist heat eye compress, lid wipes, and hypochlorous acid solution in the weeks leading up to surgery. As each of these have been shown to improve ocular surface health and limit bacteria, surgeons can offer these conveniently now. Bruder Healthcare makes this easy with its all-in-one prep package that you can recommend to patients in advance of their surgical consultation appointment.
¹Clin Ophthalmol. 2022;16:1003-1008. https://doi.org/10.2147/OPTH.S356895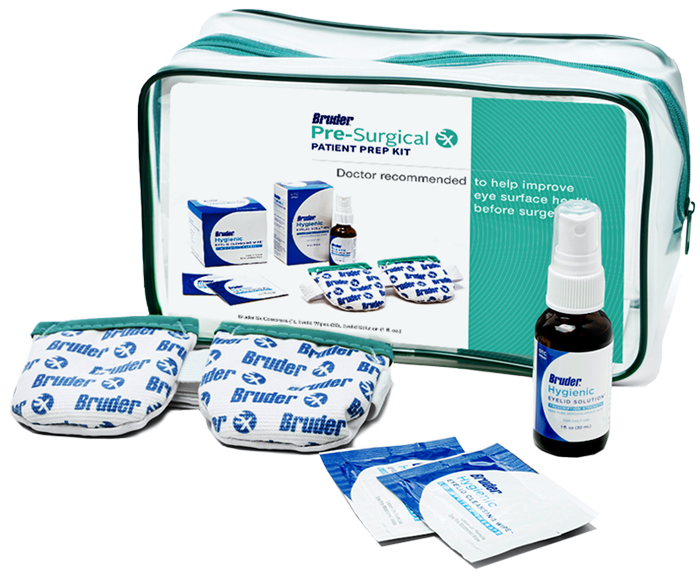 The Bruder Sx Pre-Surgical Patient Prep Kit
The Bruder Pre-Surgical Prep Kit includes: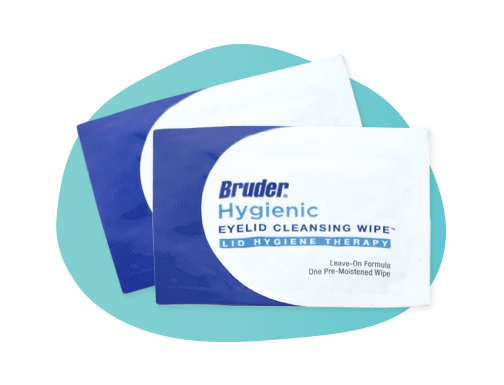 Bruder Hygienic Eyelid Cleansing Wipes
Pre-moistened textured wipes contain a mild surfactant designed to remove build up, oil, dirt, pollen and desquamated skin that may cause eye irritation and infection.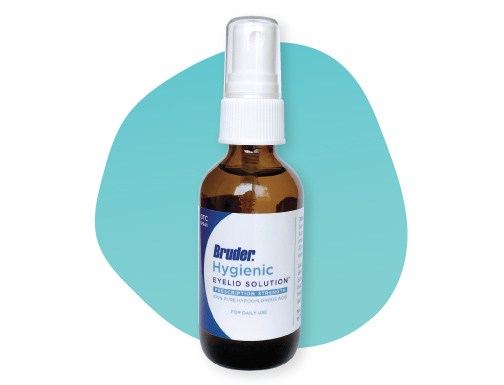 Bruder Hygienic Eyelid Solution
Naturally-occurring hypochlorous acid (HOCl) has shown high efficacy against a wide range of microorganisms. Applying one to two sprays of the solution daily to closed eyes helps fight infection, reduce inflammation and bacteria, and enhance natural ability to heal.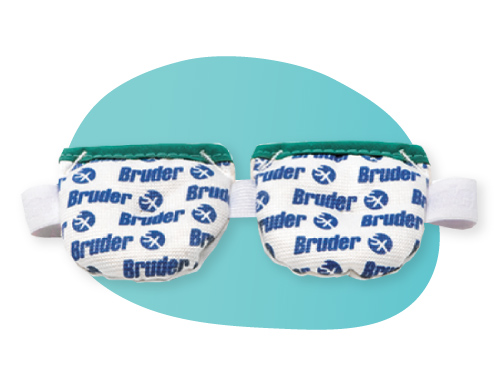 Bruder Sx Pre-Surgical Compress
This enhanced compress is designed specifically for the unique needs of the pre-surgical patient using EyeOnic™ fabric woven with antimicrobial silver threads. Like the original Bruder Moist Heat Compress, the Sx mask is filled with self-hydrating, silver-infused, patented antibacterial MediBeads® to unclog meibomian glands and stabilize the tear film to improve pre-surgical measurements. Patients microwave the mask for 20 seconds then apply for 8-10 minutes.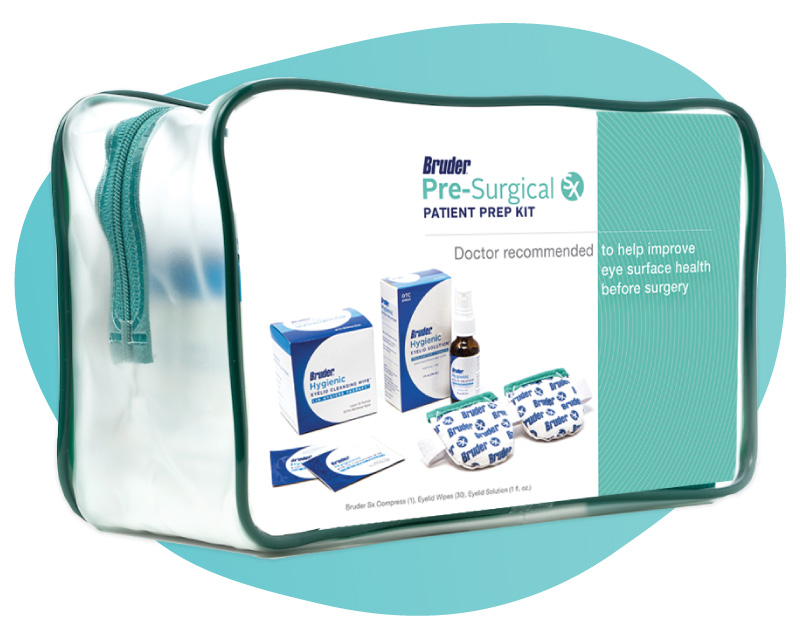 All of the essential items that pre-op patients need are neatly housed in an attractive, yet practical case that's large enough for doctors to customize by adding complimentary products, prescriptions or patient education paperwork.
Available for in-office distribution or patient purchase by referral online.
Eye care professionals can contact Bruder Sales support department at [email protected] or at 888-827-2337 to learn more, or to request a sample. 
Pre-surgical patients should discuss with their eye care professional and can purchase online at buy.brudersx.com.